The origin
Painting by numbers is nothing new, but it still raises questions like "can it be considered art?". We travel back to the 1950s and meet Dan Robbins, the person behind the concept. The creator was inspired by Leonardo da Vinci to create the first painting by numbers. In his autobiography, he recounts that da Vinci used to hand out numbered patterns to his students. The exercise was to paint each space with colour. "Where have I seen this before?" you think.
Painting by numbers is now a sought-after experience for people of all ages. Whether with family, among friends or alone, it suits any time. But how does it work anyway? First, you need an image divided into shapes, like a jigsaw puzzle. For each shape, there's a number. Secondly, you check that the colour of the paint corresponds to that number. Finally, you start filling in the gaps and complete the picture!
The other side of the painting by numbers
It sounds easy and simple, but there is the other side of the coin. It requires time, patience, and a lot of attention. More than your previous experience, what matters is what you take away from the process. For example, Dan Robbins talks about the painting by numbers as an experimentation of art. He wanted to bring that experience to people who were not comfortable painting.
Today, we continue to use paint by numbers for the same reasons, but not only for the same reasons. On the one hand, we are inspired by Leonardo da Vinci. Painting by numbers can be an excellent learning tool. On the other hand, it is an experience that is worthwhile in itself, regardless of the result. It's not about discovering the next Pablo Picasso! But rather to raise awareness of art as a form of communication. Would you like to paint a picture just because it's fun? Because it makes you happy? Then you have a good reason to start!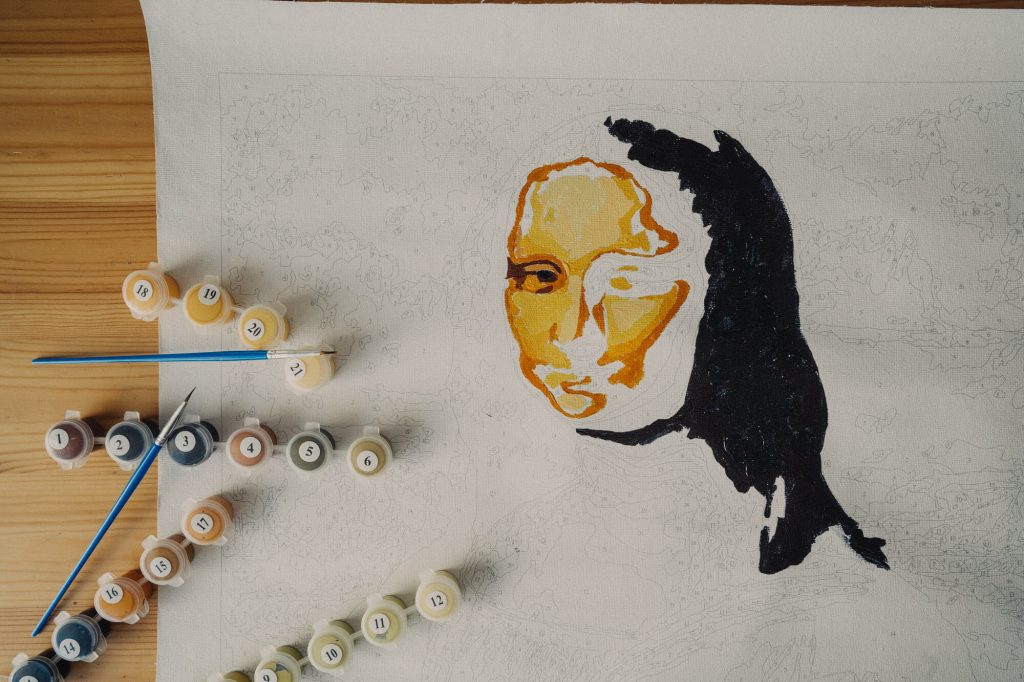 Painting by numbers has both mystery and controversy. That is, it mixes simplicity with patience, and challenge with fun. You no longer have to worry about the final image! Even though it challenges your concentration. Plus, it's a great exercise in timing. Haste and urgency give way to slowness and calmness. It's kind of therapeutic, don't you think? With the bonus that at the end you can look at the image and say: "I created this". What better feeling than taking your time to do something that makes you feel good?